How to Keep your Florals Fresh the longest
If you're wonder how to make flowers last longer, you're in the right spot. I've asked my good friendor, Carla, of Love in Bloom to share her best tips on how to make flowers last longer.

It's something that I struggled with for a long time, it seemed no matter what I did that I couldn't make stems last more than a day or two! If you have this problem, read on.
Guest post by Carla Carbajal, Love in Bloom Florists
If I had a dollar for everything a person finds out I'm a florist and asks me "how do I make my flowers last longer…" I would be retired!
Here are my top 3 tips and some bonus pro tips on how to make your flowers last longer at home!
1. CUT THE STEMS AS SOON AS YOU RECEIVE THE FLOWERS (IF THEY ARE NOT ALREADY IN A VASE)
If nothing else, please just do this!! It takes NO TIME, and very little tools are required… literally a vase with water and some sharp garden or kitchen scissors will do! You want a clean cut or else the flower stem will clog up and the water absorption process will be compromised.
I'm sure your next questions is… Do I have to cut them under running water and on an angle? NO! I have been doing this for 12 years and not once have I done this… because WHO HAS GOT THAT KIND OF TIME? However, as soon as you cut you must put the flower in water, it takes 10-or-so seconds for the flowers stem pores to start closing up. Just doing this will give you an extra 3 days of flower enjoyment! So please, do it!
Now to address the "do you have to cut on an angle?" part. The answer is also no. Again, I have been doing this for 12 years and not once have I had a flower die because I specifically didn't cut it on an angle. However, it is not a myth either… The logic behind the angle cut is that it's a sharper cleaner cut, so again my suggestion would be to be sure whatever tool you use is sharp enough to make a clean cut.
Side note: The angle cut technique comes from using a knife instead of sheers. It is safer, faster and cleaner to cut a flower stem on an angle with a knife than it is doing a straight cut.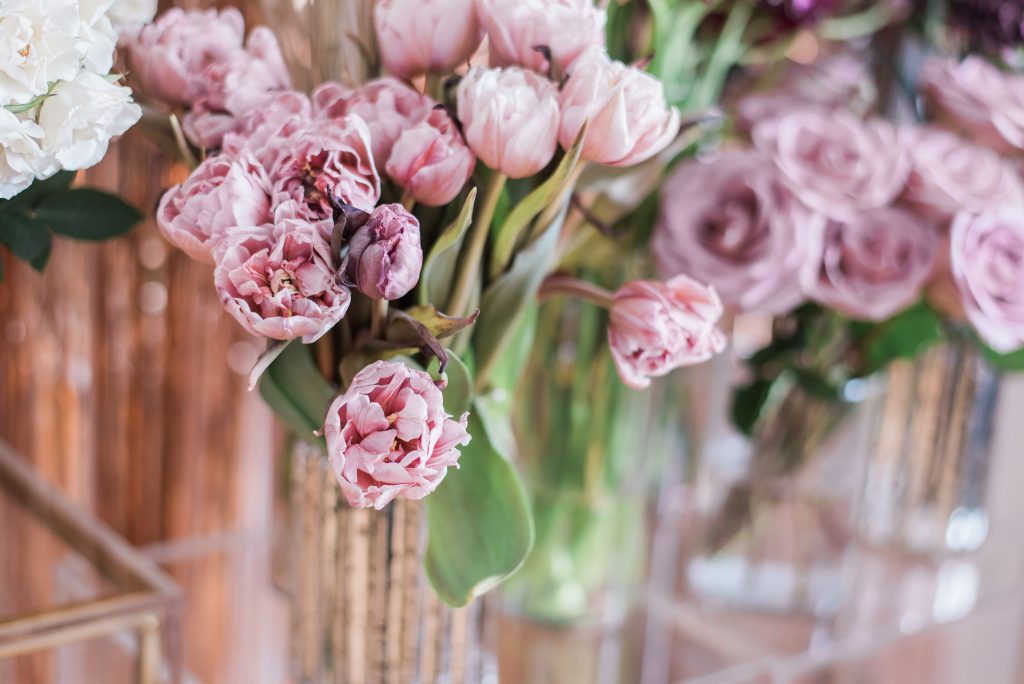 2. THE WATER AND THE VASE CLEAN!
Ideally, you'll want to change the water and clean your vase with soap and water every other day (2-3 days) , make sure to scrub the walls of the vase to remove all the sticky bacteria, and before you put the flowers back in water trim the stems and remove the /wilting dying flowers from your arrangement.
Yes, it is totally normal for some flowers to die before others. Each flower has a different "vase-life". Dying/decomposing flowers will release gases and bacteria into the air and water that harm the rest of the fresh flowers making them wilt faster.
Bonus tip:
Always use cool/cooler-than-room temperature water (turn you tap to just under the halfway going from cold to hot). Warmer water will make flowers blooms faster and therefore speed up the aging process (aka die faster). And colder water will shock the flower stems and slow down the absorption process.
So keep it clean! 🙂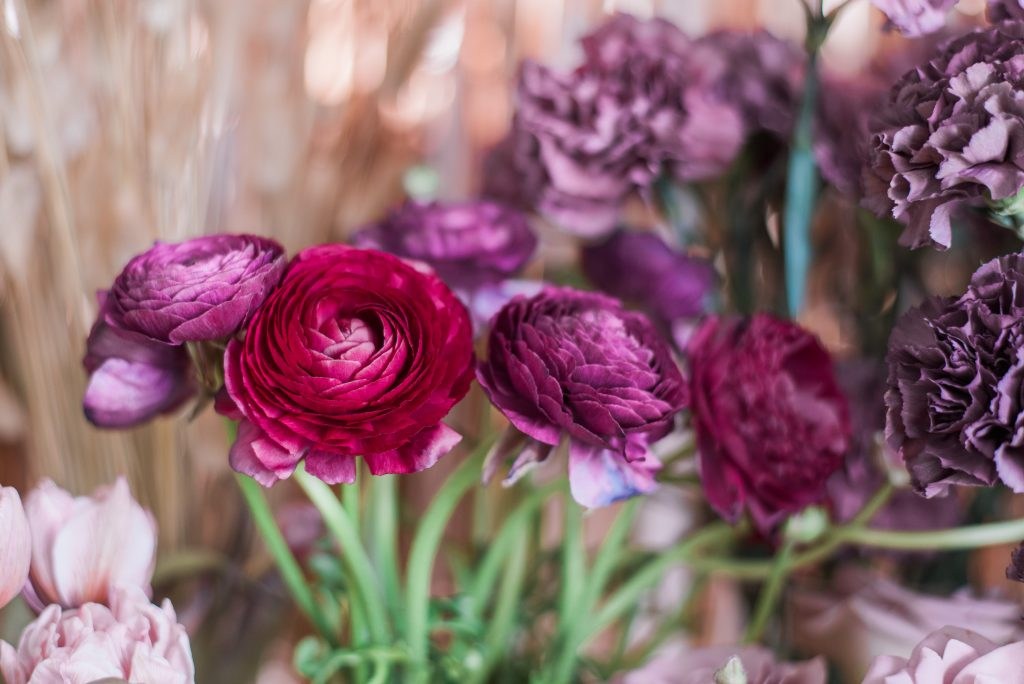 3. AVOID DIRECT SUNLIGHT
While flowers love lots of natural light (and they need it to encourage them to bloom), keeping them away from direct sunlight is a must to help them last longer. Petals are so thin and delicate, just like our skin, and direct exposure to sunlight for long periods of time can cause a lot of irreparable damage. As simple as that, keep your flowers away from sunny windows!
THE NUMBER ONE QUESTION I GET ABOUT FLOWERS IS "HOW LONG DO YOU THINK THEY WILL LAST!?"

– Carla
And my answer is I DON'T KNOW! Truly, I just don't know!
It all depends on the environment they will live and be displayed in and how well you care for them! But here's a general idea of the vase life for a few of our favorite types of flowers for you to take into account!

Here's a helpful guideline: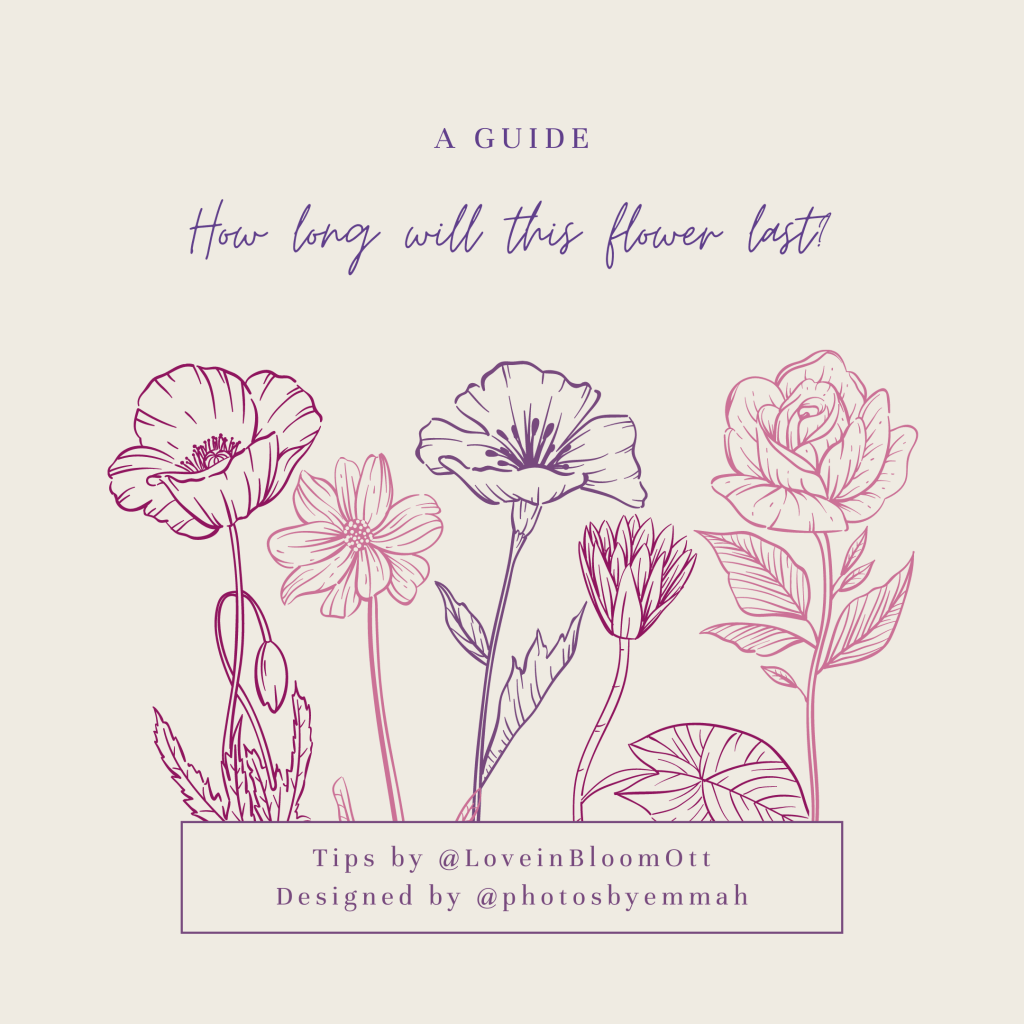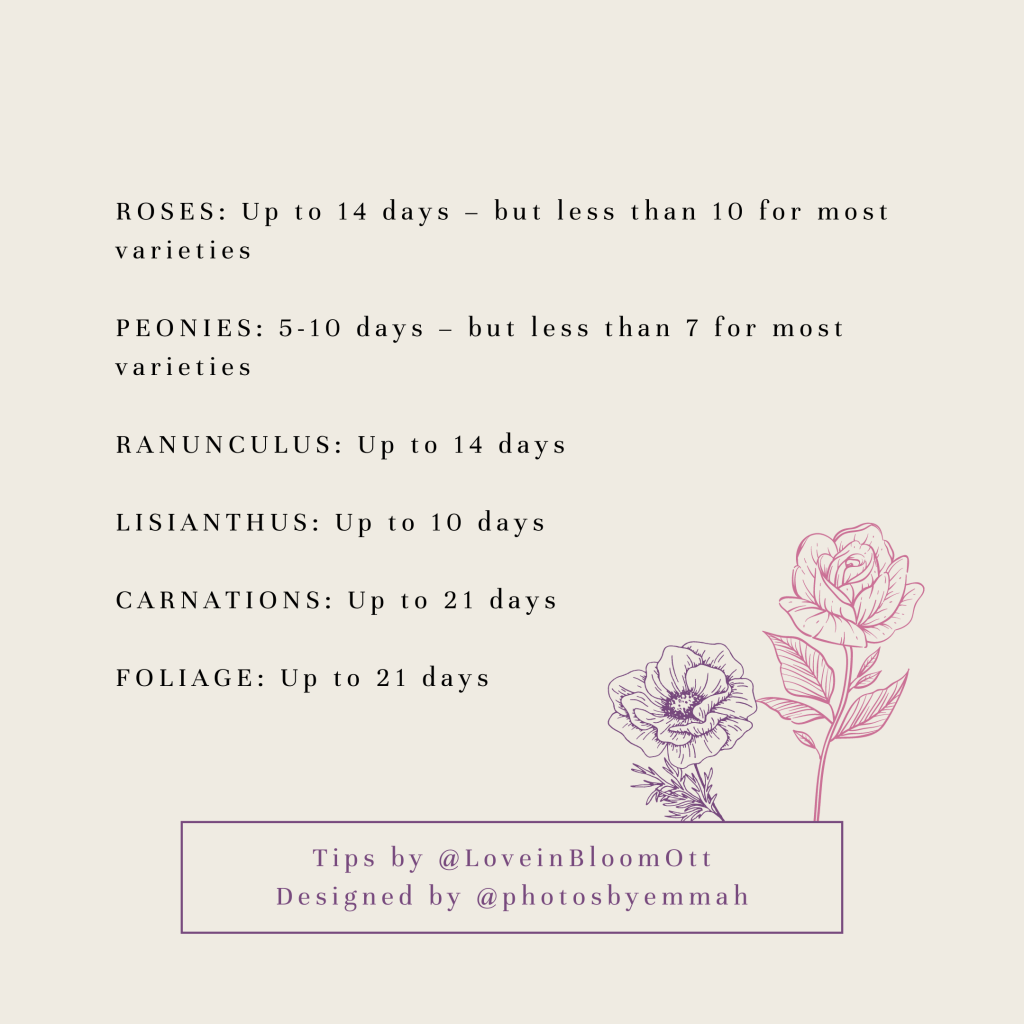 PRO TIP:
You can always deconstruct your arrangements, split them into separate pieces and display them in different vases, in different rooms around your house. I personally find most flowers they thrive for longer when they are not mixed with other flowers – most likely because they have different aging processes.
I hope you found these tips helpful and if you still have questions please feel free to reach out via email or social media!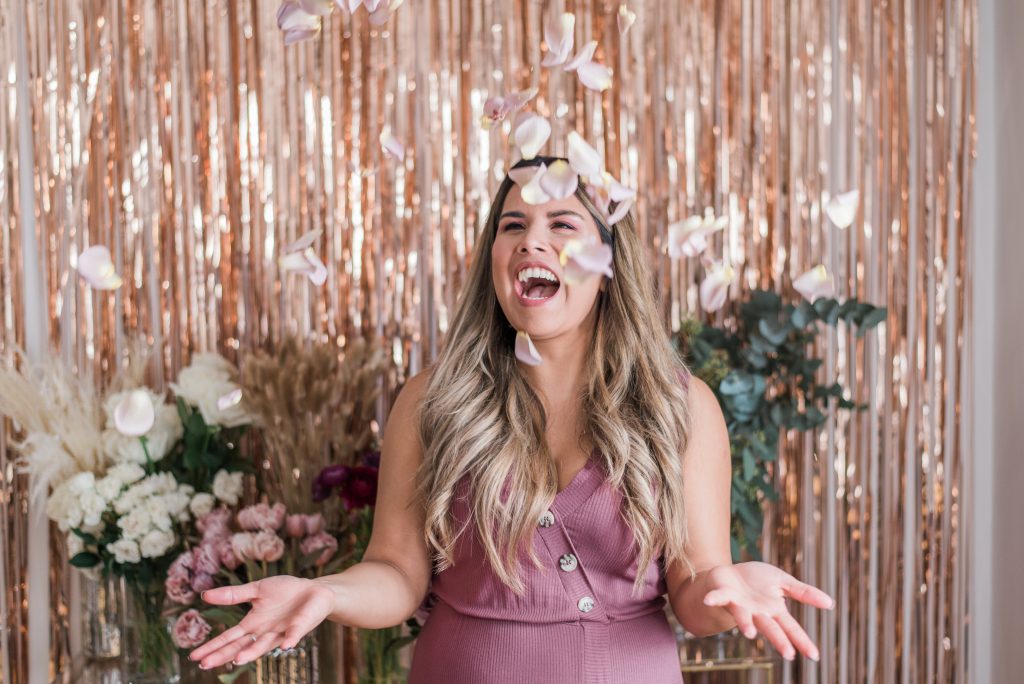 HAPPY FLOWERING
XOX CARLA