One of my oldest friends is having a baby! Hanan and I have been friends for 19 years (& counting!) and I cannot believe it's been nearly two decades! The inspiration for the high tea baby shower came from Hanan's background as a fashion blogger, whose style is classy and modern. We wanted to create a shower that was styled with Hanan Tehaili in mind. We decided to go with the color palette of gold, grey and white, and it inspired all the decor elements.
The decor
The greenery wall was a statement piece and tied the entire design together to make a perfect blend of a lush, organic, and modern elements. The florals included italian ruscus for the whimsy, and beautiful anemones – the white roses and lisianthus spilled out of the mercury vases, adding even more freshness to the decor.
The dessert table
I opted for tiered trays to add some height and dimension on the main dessert table, and mini pedestals for the perfect mini fondant layer cakes to perch on. The naked cake with flecks of gold, was the perfect centerpiece for our table. Jelena was given a color scheme and theme, and she just went with it. We were blown away by the beautiful desserts and they were seriously delicious! We brought the theme more in the cookies which were designed to resemble tea cups and pots – and they were true works of art. The table we chose had drawers that I added some ruscus to, I felt that it really was the final touch it needed.
& everything else!
For the modern elements of the shower, we printed some custom made quotes in brush calligraphy and framed them to once again elevate the feel of the space. The white & gold tassels brought the whimsy back into that display, and the gold chiavari chairs kept the party looking classy! Alissar, thank you for your hard work helping to prepare the delicious savoury spread of food (those lemon poppy seed scones were amazing!) and for supplying us with unlimited coffee! Sheena, thank you so much for organizing all the fun games and hosting them as well. The favours were mini jam jars, and I totally attempted to hand letter every guests' name – you be the judge of how that turned out! I also hand-lettered a welcome mirror, and I have to say – I never thought it was easy, but it was surely harder than it looks! Major kudos to all my lettering artist friends.
Hanan wore a custom lace gown, and looked absolutely ravishing! I'd say it was a successful modern, high-tea baby shower! p.s. Hanan, how is your hijab constantly PERFECT?! Share your secrets please.

































Download a copy of these free nursery prints here!
PIN IT: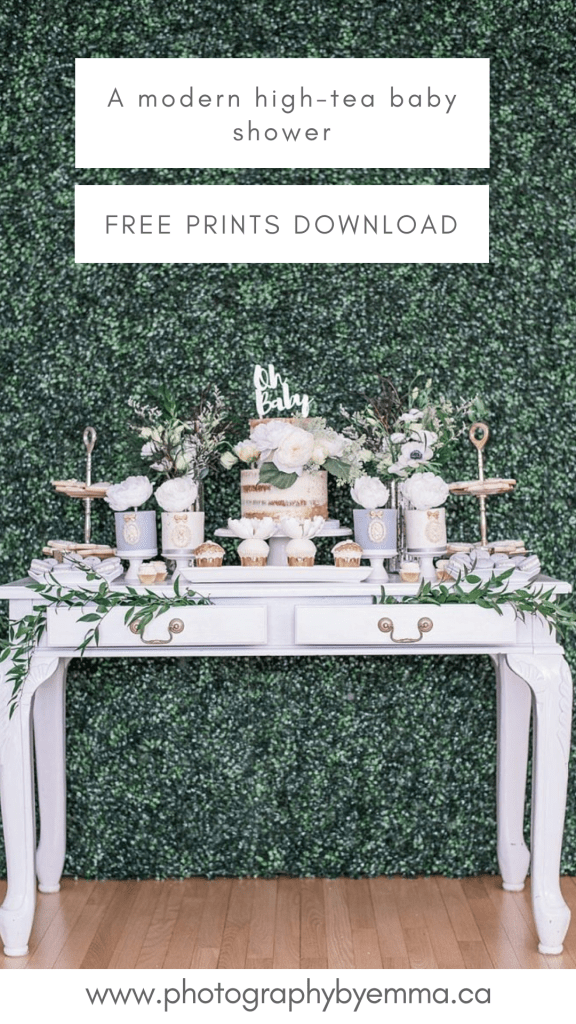 Vendors:
Decor: Pearl Decor
Photography + Planning + Design: Photography by Emma
Dress: Miiestilo
Desserts (Cake, Mini Cakes, Cupcakes, Macarons): Jelena Brunet Sweet Art
Sugar Cookies: Fantasy Cookies
Cake Topper: Meraki Arts Co
Flowers: Capital Florist
Tassel Garland: Genwoo