In the heart of Ottawa's iconic ByWard Market, Kyla and Michael's modern wedding at Play Food & Wine restaurant was a true testament to style, elegance, and a celebration of love. Their special day seamlessly combined the city's chic vibes with a touch of sophistication, making it an unforgettable affair for all.
The Perfect Venue: Play Food & Wine
Play Food & Wine restaurant, with its small-plate concept and a commitment to local, sustainable, and seasonal ingredients, was the ideal choice for Kyla and Michael's cocktail-style wedding. The venue's open-concept kitchen overlooking the second-floor dining room created an intimate yet contemporary setting. Guests had the opportunity to savor a variety of delectable dishes, showcasing the restaurant's dedication to market-driven cuisine. This unique dining experience allowed guests to explore a culinary journey while celebrating the couple's love.
Bridal Elegance
Kyla's gown, a breathtaking modern design from Thei Couture, purchased at Ottawa's Whitesatin Bridal boutique, was a showstopper. The Quartz gown blended classic elements of a sheath dress with unexpected details that left everyone in awe. Its arched under-bust seam, mirrored side slits, and a keyhole back with a crepe watteau train added a touch of modernity and sophistication. Michael, equally dashing, donned a classic black suit, complete with a lush green and white boutonniere.
Kyla's bridal ensemble was complemented by a pearl-studded veil from Ruffled Rose Veils, adding an extra layer of timeless elegance to her look. Her makeup, skillfully done by Sommer Mbonu, highlighted her natural beauty, while her sleek bun hairstyle, courtesy of Topknothairstylist, completed her modern bridal appearance.
Custom Jewelry and Accessories
Both the wedding bands and custom-designed earrings, featuring gold and raw pearls, were crafted by Davidson Jewellers. These pieces added a personal touch to the couple's attire, symbolizing their unique love story. Kyla's choice of Stuart Weitzman's clean white leather strap heels perfectly matched the modern aesthetic of the wedding.
Classic Florals
Petites Fleurs Aylmer took charge of the floral arrangements, creating a modern backdrop for the ceremony and adorning the reception space with bud vases and lush white flowers intertwined with vibrant greens. The floral display added a touch of nature's beauty to the urban setting, enhancing the overall modernity of the celebration.
Kyla and Michael's wedding was a harmonious blend of modernity and elegance, set against the backdrop of Ottawa's vibrant ByWard Market. Play Food & Wine's innovative small-plate concept allowed guests to savor a diverse range of flavors while celebrating the couple's love story. With their impeccable taste in fashion, accessories, and florals, Kyla and Michael showcased the essence of a modern wedding in Ottawa. It was a day filled with style, sophistication, and a true celebration of love, making it a truly memorable affair for all who attended.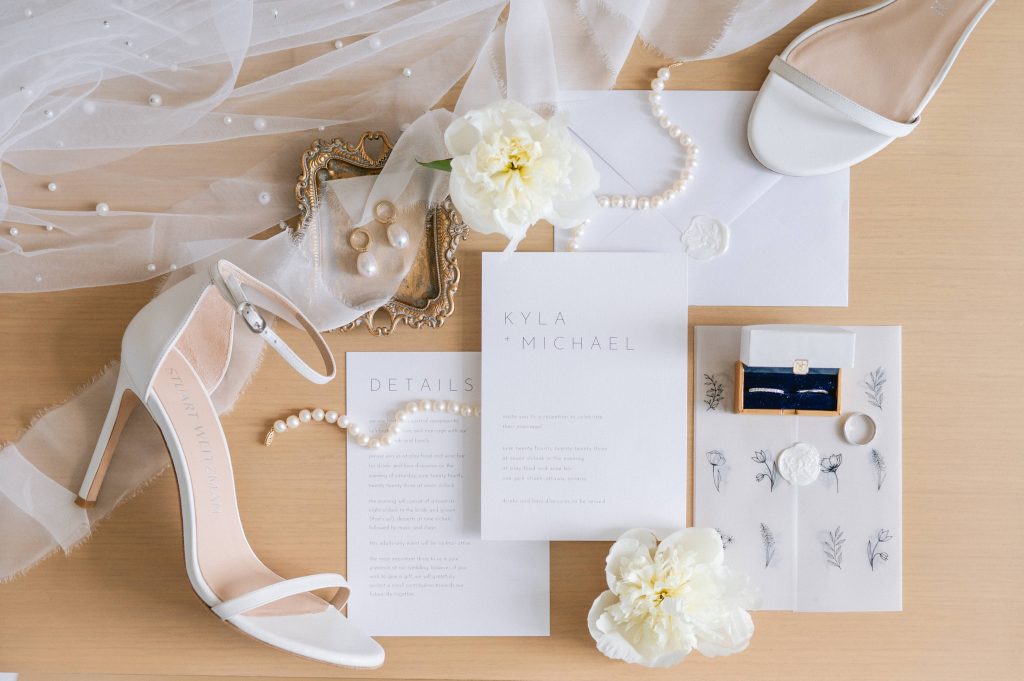 Venue: Play Food & Wine
Dress White Satin Bridal
Photography by Emma
Veil Ruffled Rose Veils
MUA Sommer Mbonu
Hair Top Knot Hairstylist
Rings Davidson Jewellers
Shoes: Stuart Weitzman
Florals Petites Fleurs